Remote supervision
About remote supervision
A general demand can be observed on many areas of technical life to be able to collect not only qualitative but quantitative information about a remote, stationed device. A complex, scalable and configurable equipment might be very helpful in this issue. The remote, stationed device of course has to be connected (it may be wired or not - radio controlled, laser etc -) in order to allow data transfer. In our case it is possible via a conventional Ethernet interface. The card providing supervision can be combined with various expandable peripheral units that allow environment parameters to be monitored and measured besides letting remotely initiated interventions to happen. These units can control inner and outer temperature and voltage meters, smoke and intrusion detectors, and execute remotely issued commands like granting entry via the entry system or opening a door.
BUSMAN - Basic Unmanned Station MANager
The Busman card is an individual, autonomously operating unit that is capable of remotely supervise and diagnose stationed equipments like remote containers or boxes. Its onboard and additionally applicable sensors are suitable to continuously monitor environment effects such as various supply voltages, incoming power supply, backup power sources, batteries, inner and outer temperature or smoke and intrusion. Data transfer is executed through a standardized Ethernet interface via TCP/IP protocol and data flows into a central computer where several similar monitoring units can be simultaneously controlled. Entry into locked containers can be managed remotely from the headquarters. The board is available in various designs with diverse power supplies and configurable input and output connectors.
Usage
Busman boards are effectively applicable in all cases where remote, stationed equipments like outer devices placed on a roof top or locked containers on terrain are to be supervised and remote contolled from the headquarters. Its input and output peripherals are expandable and usable in a wide supply voltage range.
Technical information
Features
- industrial design, board appliable onto console
- 4 analog inputs (expandable)
- 16 digital inputs (expandable)
- 4 contact inputs (expandable)
- 4 digital/contact outputs (expandable)
- 2 temperature meters (one inside, one remote)
- standardized Ethernet interface
- RS232 console connector (onboard)
Specifications
- serialized analogous contact inputs/outputs
- RJ12 for external thermometer
- RJ45 for digital inputs/outputs
- RJ45 bolster for 10/100 Ethernet interface
- Canon 9-pin RS232 connector (onboard)
- eligible external power supply (+12V DC, -48V DC)
- dimensions: 220x170x30 mm (without board and peripherals)
- power supply: 12V, max. 800 mA (with board)
Case study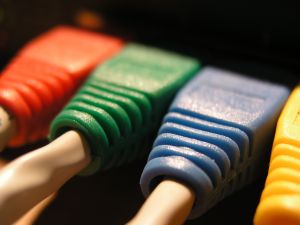 BUSMAN applied at a nationwide IP network provider.
An example usage of BUSMAN is provided at a monitoring system of a nationwide IP network. The data network in consideration has more than 100 junctions that are connected to several microwave, optical and other data transmitting installations spread over a wide range of geographical locations, often far away from populated areas. These junctions - that can be imagined as some kind of a containers - all are powered by uninterruptible supplies and complemented by climate equipments together with devices responsible for data traffic.
Remote supervision of these containers are provided by BUSMAN units, making use of the availability of an IP network at all places. Special peripherals of BUSMAN monitor the environmental circumstances. They are measuring power source voltages, changes in temperature and send alarm signals if there is unauthorized intrusion or a fire. The system allows regular changing of the code needed to open the container door and entry authorization granting. All datas collected in the container are transmitted to the computer at headquarters via standardized SNMP packets over the IP network.
The flexible design of BUSMAN allows the units to be customized to fit the current needs, combined with additional peripherals and provide further remote supervision tasks.
Related services: Software development >>>